Walking Stance
(gunnun sogi)
This is a strong stance for front and rear, both in attack and defense.
The dimensions of the stance are:
length: 1.5 shoulder widths from big toe to big toe, and
width: 1 shoulder width apart from the centre of each instep
keep the toes of the front foot pointing forward, and
the opposite foot 25° outward
bend the front leg until the kneecap forms a vertical line with the heel
the rear leg should be completely straight, and
the body should be vertical.
tense the muscles of the feet with the feeling of pulling them toward each other
body weight is even on both feet (50% – 50%)
When the right leg is bent, the stance is called a right walking stance and vice-versa. It can be either full facing or half facing both in attack and defense.
The ready posture for this stance is: Walking Ready Stance ( gunnun junbi sogi)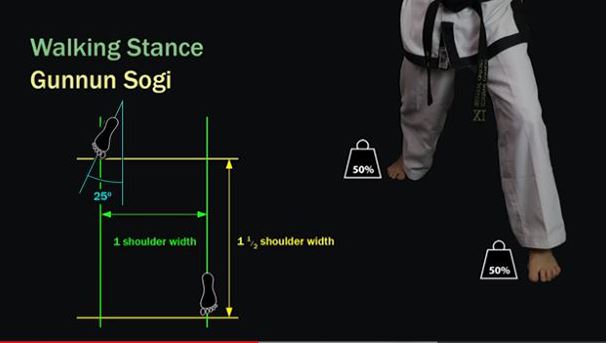 ---
Patterns (tul) that use this stance:
All of them except Po Eun and the fundamental exercise Saju Tulgi